LeAnnea Taylor Wins Customer Service Award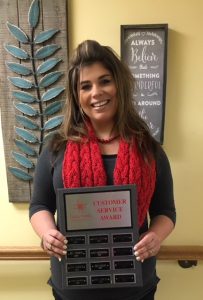 Each year Graceworks Housing Services selects an employee that illustrates outstanding customer service from across 18 communities in the tristate region. The award is given to the person that exemplifies our mission, our customer service philosophy, and our Faithful Caring tenants while acting as an inspiration to others. The award is announced and presented at the annual Housing Services' Christmas party.
LeAnnea Taylor is the recipient of the 2018 award. LeAnnea is the Service Coordinator for Luther Community in Bellefontaine. She has worked for Graceworks since November 2015.
Site manager Debra Walters writes "LeAnnea exhibits patience, kindness, respect and love towards her residents and co-workers. She works well with other staff members, residents and outside agencies that come into the building to provide services to our residents so that they may age in place."
Service Coordinator Lisa Ebert of Messiah Community also writes in support of LeAnnea, saying "She is in her community learning ways to have new events to each her residents to stay independent. With the recent cuts in HUD for service coordinators, she still manages to find creative ways to have cookouts, coffee time, bingo and other events her residents really love."
Techy Teens/Savvy Seniors is one of LeAnnea's biggest projects. Local high school students visit with her residents at Luther. The students teach the seniors about technology and give classes on how to use an iPhone and Facebook and much more. The DECA students earn valuable teaching skills and the residents enjoy interacting with the younger generation.