Graceworks Housing Services Featured In 'LeadingAge' Magazine
The following story is from the September 18, 2017 edition of LeadingAge magazine. The magazine highlights individuals served by LeadingAge member agencies.
Before success comes patience … when we add to our accomplishments the element of hard work over a long period of time, we'll place a far greater value on the outcome. When we are patient, we'll have a greater appreciation of our success. [John Wooden]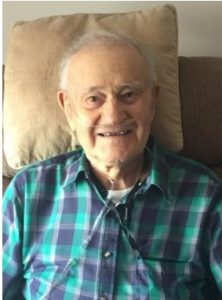 A 13-year resident of Luther Community has made history. Harold Heacock, age 91, walked with the Cardington-Lincoln High School Class of 2017 to be awarded his Veteran's Diploma. This long-awaited graduation took place 73 years after his class graduated.
Heacock was a member of the Class of 1944 when, during World War II, he opted to join the U.S. Merchant Marines. Following his honorable discharge in 1947, he returned to Cardington, but shortly after was drafted into the U.S. Army in 1948. He was granted an honorable discharge in 1949 and returned to Cardington yet again. He joined his family's farming business, married and had children.
Decades later, Heacock and his wife June moved to Logan County to be closer to their adult children and grandchildren. June became a resident of Logan Acres Senior Community and Harold moved into Luther Community. He is described by the staff and residents as a wonderful man who has a grateful heart and a warm smile, and as a doer of good deeds.
Through the years Heacock hoped he would someday have his high school diploma. His family approached Cardington-Lincoln High School after learning about a law, enacted in 2001, that allows school districts to award diplomas to veterans of World War II, Korea or Vietnam who had received honorable discharges. Heacock was eligible to be granted a Veterans Diploma and arrangements were made for the graduation date.
Heacock walked with the Class of 2017 on May 21 to receive that long-awaited diploma. His accomplishment was celebrated by friends and family in Cardington at a graduation party, and Luther Community held a graduation celebration.